There has been widespread debate on whether you should bid on your own brand keywords and create brand name ad groups. By 'brand', I mean keywords and ad groups of your company name. Some agencies will advocate against it, arguing that it generates poor ROI and is often a waste of limited resources. But before you write it off, generally it is better to bid on your brand and here's why.
Lack of organic results
If your website does not have a top position for your main keywords or is relatively new, your brand keywords will often bring up very few results on Search Engine Results Pages (SERPs). This is a good time to bid on your brand keywords because you cannot generate traffic to your website if your potential customers cannot find you! PPC enables your brand to gain automatic exposure on the search engines.

The more exposure, the better
How do you generate more traffic to your website? Simple, the more presence your brand occupies in the SERPs the better. Particularly, as it is common for users to click on multiple search results. If you only rely on organic search results, you are missing out on both the additional brand exposure and the opportunity to convince users you have exactly what they are looking for. Imagine the potential traffic you could have gained!
Not convinced? Research shows that bidding on branded keywords results in a 30% rise in click-through rates (CTR) when you have PPC ads next to your organic search results.
Better you than your competitors
If you do not bid on your own brand keywords, chances are you competitors will. While you can request that your trademark not be used in your competitors' PPC ads, it is perfectly fine for them to bid on your brand name as general keywords. What does this mean for your website? Well, it can direct potential customers away from your business (including those who originally planned to visit your site). This is like having a competitor advertising outside your store, directing your customers away! You wouldn't just sit back and watch them, right? I have personally seen businesses bid on their competitors brand keywords, only to run negative ads about the competitor on these keywords.
Remember: The more advertising space you occupy in search engines, the less there is for your competitors to buy!
Control your message
When you search for a company name, it usually brings up their home page in the SERPS. The best part of PPC ads is the control over your marketing message. You can direct the user to an offer page to encourage them to purchase or a recently launched product or service. Better yet, you can target specific demographics or locations with different PPC ads.
For example, if you look at the results for a search of MAC, you can see that the ad for Mac computers, directs users straight to their online Store.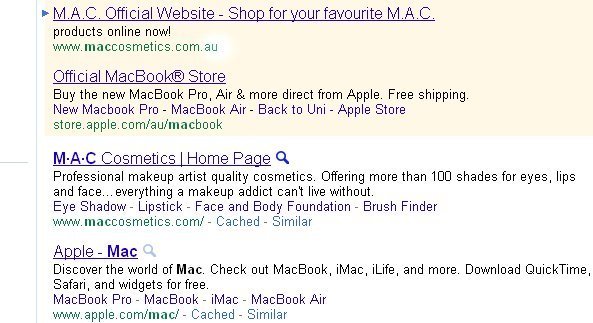 It's cheaper than bidding on generic keywords
There are 2 main reasons for this:
Your company brand name keyword is usually less competitive than generic keywords
When you bid on your own brand keywords, this often allows you to gain a higher PPC quality score at a lower CPC. What is a quality score? Well, I'll leave it to Google to explain:
"Quality Score is the basis for measuring the quality and relevance of your ads and determining your minimum CPC bid for Google and the search network. This score is determined by your keyword's click through rate (CTR) on Google, and the relevance of your ad text, keyword, and landing page."
Search engines will allocate a higher quality score for less because you are the actual company the user is searching for. Remember: only your website's pages and PPC ads can legally use your trademarked brand name. This leads me onto my next point.
Ability to use Ad Sitelinks and Ad Extensions
Another benefit of having a high quality ad score is the ability to use Ad Sitelinks or Ad Extensions. These are links that appear under your PPC ad contents. Search engines will only display these keywords for ads with high Quality Scores (say, for example, if you bid on your brand keywords) and for ads that are in the number 1 and 2 positions on the sponsored results. Imagine the benefits of having extra links pointing to specific pages on your website such as opening hours and special offers.
The bottom line:There are many situations where it makes sense to bid on your own brand name keywords. It may not be the best option for all company's (after all, there is no 'one size fits all' policy when it comes to PPC), but I've personally seen it work for many company's including our own clients.
5 Comments
Archives