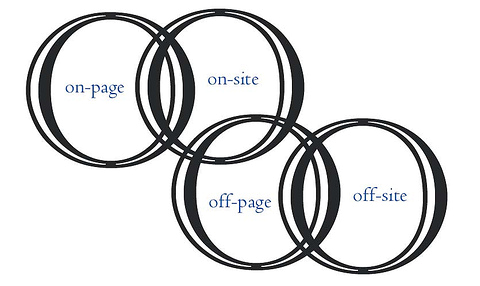 Going well above and beyond your conventional title tag or meta description keyword stuffing, you will find the semantics behind on-page optimization which is commonly believed to be the meat and potatoes of Google's algorithmic existence.  In our dissemination of correct on-page optimization tactics, we delve more closely into LDA and LSI, the epitome of correct content creation which, inevitably, will fetch much better search engine ranking results.  Beginning with semantic connectivity, otherwise painted as keyword co-occurrence, we see the intrinsic detail behind how Google strips apart your searches, and discovered content, into associations which make perfect sense.
Verbiage Relationships
Positioning content to propel your search results to the top was commonly purported by keywords matching content and meta tag inputs.  With Google, co-occurrences are heavily favored and marketers are using word associations to illuminate your desired message.  Here are several examples of semantic association which Google is using to properly index and related searches to content:
●     Searches for 'pets'.  When thinking of pets, an association to people, items or animals in the wild usually isn't made – we automatically think of dogs, cats, birds, and fish.  Associating pets with common domesticated animals is an example of semantic association.
●     Searches for 'carpet'.  Common co-occurrences would include types of carpet – Berber, shag, etc.  We wouldn't associate polyfoam padding with carpet since it's considered an underlayment, and not an associate of physical product.
●     Common sense associations. It's common knowledge that woof is what dog's speak; associating that with kittens simply won't work.  Simple associations of sounds, appearance and habitats can correlate well with animals, items or humans – and is an excellent example of co-occurrences in algorithmic composition.
Using simplistic understanding of closely related terminologies of common words, verbiage relationships can be established to perfect content and meta tags which can, in turn, increase the likelihood you'll appear in search engine results as desired.
Block Level Optimization
Google, as well as other search engines, have graduated from the quick robotic 'sweep and leave' of websites; instead of analytically approaching your website wholly, sectionalizing your content has become more prevalently used.  For example, your sidebar may contain content relevant to candy bars whereas your content is discussing peanut butter; sure, there is peanut butter flavored candies in existence; it would behoove you to mention both together so an association can be established for block level optimization efforts.
In block level optimization, your header is examined carefully and compared to all other areas; your content is matched against footer, sidebars and header, and so on. After associations have been ameliorated, the overall page is graded based on the culmination of relevance between blocks, and your page rank is assigned accordingly.  In other words, cut your website into sections, as well as ensuing pages, and make sure associations are completely relevant across the board.
Linkage
The elusive webmaster mêlée of conjugating external and internal linking is often wonderful to watch from a distance.  Since millions of businesses all believe they need #1 ranking in Google to be seen, the internal and external linking battles have been costly and nearly all for naught.  Keeping the linkage situation simplistic, follow these steps to keep your content, website and Google happy at all times.
●     Using LSI, or latent semantic indexing, write your content to perfect using co-occurrences as much as possible to imbue your point.
●     Taking your keywords (used lightly, of course), link to 1-2 internal sources relevant to your conversation, tip or how-to article.  Your keyword should be long-tailed and closely resemble the long-tail version of keyword on destination page.
●     Searching the internet or Wikipedia, link to 1-2 sources that are exactly identical to your keywords.  The link-back doesn't necessarily have to occur for Google to find your page relevant so long as your outbound links are connected to content on authoritative sites of high relevance to your own.
●     Put a few 'for further reading' links at the bottom anchored to keyword titles leading to destination pages relevant to your site, and page.
From your perspective, the link work may seem daunting; considering the highly relevant search results consumers are seeking, the likelihood your site will show up organically #1-10 is better if you take the extra few steps in propagating linkage that makes sense.
Visitor Loyalty
When begging for traffic to head your way, keep in mind Google doesn't concentrate too heavily on what was purchased – they are looking more towards commentary, shares and overall visitorial bliss. This bliss stems from the following inquisitions Google, Yahoo and MSN are making when indexing your content, links and website wholly:
●     Are calls to action being performed? (email forms, signing up for webinars, etc.)
●     Are people actively participating in discussions pertinent to articles or content written?
●     Are those discussions remaining relevant to topic?
●     Do people come back over and over?
●     Are visitors staying on the first page, or are they explorative?
Search engines find that websites which get social attention tend to be authoritative in their particular niche or, in this case, keyword.  Active participation holds optimization weight like no other; bookmarking your content, discussing topics and those vital email forms are heavily graded in today's society.  Keep these things in mind when putting together your business model.
Unique, Well-Formatted Content
Googlegeddon struck the majority – over 33% – of websites across the galaxy with one thing in mind: eradicate plagiaristic content, similarities in patterns and keep the web unique.  This simplistic fact goes without saying and, according to our research, the September 28-30 page rank update is said to make freelancers pay dearly for their plagiarism miscues.  Keeping this penalty in mind, we examine some major steps one should take when prepping content to be indexed:
●     Writing after research, not while researching. The majority of content farms, article spinners and otherwise lackadaisical webmasters feel that if they simply spin their researched content, it will rank them higher – a lesson that Build My Rank learned quickly.  You must closely read your topic of interest, close out Internet Explorer, and write based off your reflection of what was read.
●     PP's and TOS's. If you've ever needed Terms of Service or Privacy Policies written for your website, many people will hire writers with legalese – or so it's assumed.  Realistically, they are taking your money and heading to the 'factory' which spins out a commonly used – and also indexed – page which has 99% commonly used content with 1% comprising of your biz name, address and phone number.  Take the time and extra steps in having a legal team or proven legal writer prepare the TOS and PP by hand as this is also a page with uniqueness needs.
●     Longer=Better.  Generally speaking, longer content that is 100% unique tends to correlate with higher rankings.  Writing 700-1200 words is optimal.
●     Grammatically correct. Grammar does matter; make sure you've made thorough edits and deep-line syntax checks to keep the plausibility and English perfectly graded.
Conclusion
Meta tag and keyword optimization have become trivial when optimizing websites and content, which many webmasters still haven't accepted.  Reading more about co-occurrences, LSI and the need for keeping content perfectly unique in format, verbiage and grammar will assist your content creation and, of course, ensuing optimization efforts.
Related articles
2 Comments
Archives