Dynamic Sitestats - Site Stats service helps you track the details of your web site traffic, including where your web visitors come from, what they are searching for, which are the most popular pages on your website, etc.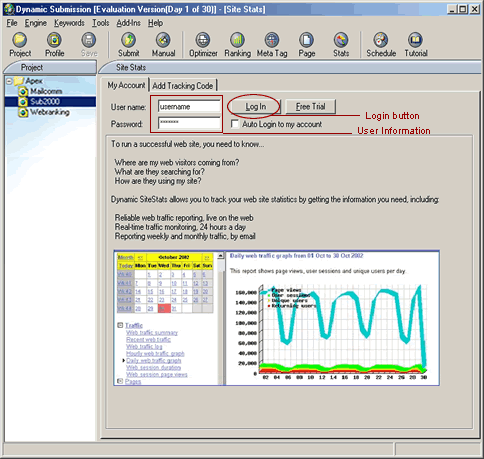 Log In
If you have already signed up the free trial or have subscribed the Site Stats service, simply log in by entering your user name and password under "My Account". Or you can save your user name and password and check the option of "Auto login to my account" to automatically log into your existing account with SiteStats.
Free Trial
If you have not signed up, click "free trial" button to sign up a new account with Site Stats for a two-week free trial first.
You can also click "Home" icon to go to Site Stats home page and get more information regarding the web traffic tracking service.
Add Tracking Code
Once you have signed up your account with Site Stats Service, you need to insert the tracking code to the web page of which you wish to track the traffic.