The Local Search Revolution has Arrived!
Say Goodbye to the phone book ... Optimize your online LOCAL presence now -- before the learning curve turns expensive.
Courtesy of SearchEngineNews.com


While searching the web these days, it's hard not to notice all those little Local tabs sprouting up in the vicinity of the search field on virtually every major search engine. Within the past year, the race has been to integrate a plethora of advanced features into local search capabilities.

Already we're seeing features like customer reviews and ratings, storefront and product photos, detailed maps with directions, hours of operation, forms of accepted payment, integration with cell phones, and much more is promised to follow. Picture a million paper phone books combined – on steroids and capable of providing instant results for an information-hungry and time-challenged customer base. The potential for local search is really quite staggering!

So what exactly is local search, and how can you best position your business to take advantage of it?

In a nutshell, local search is the Internet's version of the phone book. The difference being that this "phone book" is much faster and far more responsive. For example, suppose I'm in Boston staying at the Harbor View Hotel and in need of a haircut? No problem. I Just enter haircut followed by the zip code of the hotel where I'm staying – 02114 – and I instantly find Richard's Haircutting for Men a scant 0.4 miles east and with directions.

All that took about 30 seconds from concept to completion, leaving me with a feeling of satisfaction that no regular phone book could ever provide. I'm now addicted to local search after only a single dose! Throw away the phone book, never mind the concierge.

Now, if that little demo hasn't yet convinced you, chew on this recent finding...
70 percent of U.S. households now use the Internet as an information source when shopping locally for products and services... Findings also suggest the Internet is poised to surpass newspapers as a local shopping information resource. Source: The Kelsey Group
Simply put, local search – including local search on mobile devices – is about to dominate the world of brick-n-mortar marketing. Ready or not, here it comes! ...we suggest you get ready now, before it starts costing you a fortune to negotiate the learning curve. Oh, and get used to the fact that the big yellow phone book is well on its way to becoming nothing more than a cheesy doorstop.
Outside North America?
Editor's Note: Currently, local search is concentrated on the United States and some parts of Canada. While we strive to provide useful information to subscribers world-wide, most local search engines are still in beta testing and have limited their market to North America. As their coverage expands to encompass countries outside this region, we will also expand our reporting of local search strategies to apply to this rapidly-evolving market.

Update: On April 19th, 2005, Google Local UK was launched for UK users. Most UK results are currently provided by Yell.com.
How To Get Listed In Local Search
The first step to getting your business listed in Local Search is (surprise) to buy a listing in the offline Yellow Pages (yep, that cheesy doorstop-to-be we just dis'd). Here's why:
Most search engines get the bulk of their local business listings from just two companies:
...or else from Internet Yellow Pages sites which also derive their listings from these two companies. Both companies have compiled enormous databases containing detailed information on most of the businesses and consumer households in the US and Canada. And much of their data is pulled from your basic print
Yellow Page
and
Business White Page
directories
(aka, the cheesy doorstops)
.
The good news may be that your business already has a listing in your local Yellow Pages – if not, then you should get one! Don't worry about taking out a big colorful ad with lots of information about your company. We haven't any reason to believe that expensive ads offer any advantage in local search rankings. Nor does lots of business information in your Yellow Pages ad seem to enhance your local search listing's comprehensiveness. It appears to us that any Yellow Pages listing at all will get you included in most local search engines just fine.
By the way, InfoUSA has the more user-friendly website of the two. They provide a way for you to actually check to see if your site is listed with them by using their Directory Assistance Plus web search. And, if you find your business is not listed or is listed incorrectly, you can use their add/update page to correct your listing.
Search Service

Data
Provider

Google Local

infoUSA

*

Yahoo! Local

infoUSA

Yahoo Yellow Pages

infoUSA

MSN Yellow Pages

Acxiom

AOL Yellow Pages

infoUSA

A9 Yellow Pages

Acxiom

Verizon SuperPages

Acxiom

SBC SmartPages

infoUSA

Bell South Real Pages

Acxiom

Switchboard

infoUSA

Lycos YP

Acxiom

Excite YP

Acxiom

iWon.com

infoUSA

InfoSpace

Acxiom

Dogpile YP

Acxiom

WebCrawler YP

Acxiom
*Deal inked May 3, 2005.
The table on the right is a short list of which company is providing data to some of the most popular Internet Yellow Pages and local search engines.
Currently, Google builds its local search results using feeds from several Internet Yellow Pages. Thus, Google is indirectly taking results from both InfoUSA and Acxiom via those Yellow Page feeds. Ask Jeeves appears to be doing the same.
However, on May 3, 2005, Google signed a deal to license InfoUSA's directory of U.S. businesses, so we can expect them to provide Google local search data before long.
How To Check Your Listing
Once you have a Yellow Pages listing (the cheesy doorstop version), then chances are you'll be found in most local search engines. To check to see if you're listed, enter your business name and zip code into the search fields at the following locations:
If your business is missing from any of these local search engines, see the engine-specific information provided later in this article. Chances are good that even if your site is listed, your business information may be incomplete or inaccurate and you'll probably want to update and improve your local search listing.
Targeting Internet Yellow Pages
You can improve your chances of getting listed with the major local search engines by making sure your site is listed in the top Internet Yellow Pages.
The table on the right provides a list of top Internet Yellow Pages (IYP) in roughly their order of importance. Most of these IYPs provide a free business submission process. In addition to getting listed, it's also important that your business information remains consistent throughout all of the IYP sites. Information consistency across IYP sites is crucial to the process of getting your business listed quickly and accurately in the major local search engines.
Deciding which IYP's (Internet Yellow Pages) service to list your business with is a three step process:
First, do a search for the keywords/keyphrases your business is targeting. Ask yourself; Do any of these Internet Yellow Pages come up in the main (not local) search results? If so, then listing your site with them will help get your business indexed on a site that is already doing well in the organic

(i.e. non-paid)

search results. In essence, you are piggy-backing off a site which already doing well in order to achieve top rankings.


Second, determine how many other businesses are already advertising in your target category on that IYP's service. If there's just a few, then you can probably get a prominent listing without having to compete very hard for attention. However, if there are already so many advertisers that your business won't show up until the second or third page, then the effectiveness of your listing is greatly diminished. You might want to look elsewhere.


Finally, determine which of the IYPs is likely to be the dominant provider in your region. Users in your area will tend to focus on the IYPs that cater to their part of the country. You can usually tell who targets your region by finding out who produces your local phone book – that's probably the dominant phone company in your area. For instance, RealPages.com is put out by BellSouth, while SuperPages.com is put out by Verizon. Determine which phone company has a lot of users in your area, then find which IYP site(s) they own.
Yahoo Yellow Pages, AOL Yellow Pages, MSN Yellow Pages, SwitchBoard.com, and YellowPages.com are all used nationally, so you can submit to these sites without worrying too much about regional targeting. SuperPages.com has also become much more of a national Internet Yellow Pages.
A good place to start is by filling out the free business profile at SuperPages.com. Follow that up by placing a paid listing with YellowPages.com and with Yahoo Local (if your business is located in the South Western US, you might consider the bundled paid listing with SmartPages.com and Yahoo Yellow Pages). Then pursue listings with two or three other IYPs chosen according to the three criteria mentioned above.
Since nearly all local search engines use Internet Yellow Pages to provide or enhance their results, these steps will greatly improve your chances of getting listed with and ranking well in the major local search engines. From there it's just a matter of keeping your listing accurate and up-to-date with these IYPs. Doing so will help to ensure that the major local search players have your latest info, and that there's no conflict between the information they're pulling from the various IYPs.
Don't worry about purchasing an expensive listing in the IYPs. Just buy the cheapest one available, such as YellowPages.com's Basic Business Card (currently $12 per month). This will be enough to make sure your site is picked up and ranked well by all the major local search engines.
Of course, the more expensive listings won't hurt your site, and they do allow you more control over the way your business appears on that IYP site. If your marketing budget is fat, then you might consider purchasing a more full-featured listing. Just remember that the pricier listings are really not a critical part of a local search optimization strategy. To start with, just be sure you at least have the basic listing.
Engine-Specific Optimization Info for Local Search
Having covered the role that Internet Yellow Pages (IYPs) play in optimizing for local search, let's delve into the specific techniques essential to ranking well in each of the major local search engines.
Google analyzes the content within their 8 billion web page index and combines that information with data pulled from IYPs to provide the listings for their local search. Thus, if you want to optimize your business for Google Local, it helps greatly to have your IYP business listings be accurate and consistent.
It also helps to have a business web site that Google can correlate with those IYP listings. While a website is not technically required to be listed in Google Local, it does give you an advantage, even if your site is just a one-page online business card type of page.
This next step is especially critical, not just for Google, but for all local search engines. Since you never know which page on your website Google will use to create your local listing, it's important (pertaining to local search optimization) to list your business contact and location information on every page. Put it all together in one place on the page, such as in a header or footer, so that Google can find the information easily and recognize it as being related to your business.
Something simple like the following works very well:
Joe's Affordable Plumbing
333 N. Palm Canyon Dr.
Palm Springs, CA 92262
1-800-555-2345
Avoid using special or decorative characters in your business address or contact information. They might make the formatting look prettier, but they will just confuse search engine spiders.
Again, you can get listed in Google Local with nothing more than an Internet Yellow Pages (IYP) listing, but your chances of ranking well are improved by also having a business website to complement those listings.
You can also add and edit your local listing on Google Local using the Google Local Business Center (you have to have a Google account, such as a GMail account, in order to log in). Once logged in, you can edit and update your business name, address, contact information, payment types, hours, and business description and categories.
Google will send you a letter containing a PIN and activation instructions to the business address associated with your listing. After you validate your listing, you may edit your Google Local listing at any time by logging in to the Google Local Business Center. (Note that the Local Business Center is currently available only to U.S. businesses.)
Google uses its Google Maps technology to display the location of and directions to your business. They also include other relevant information about your business (which, as mentioned, you can personally edit), along with further details and user reviews pulled from such sites as InformationPages.com, CitySearch, Dine.com, SuperPages.com, Gayot.com, AOL CityGuide, WCities.com, Frommers.com, and RestaurantRow.com.
Although Google doesn't accept user submitted reviews like Yahoo does, they do pull some of their reviews from user submitted reviews on Yahoo Local and Yahoo Travel . So if you want to, um ...help yourself a little by giving your business a favorable review in Google, the easiest way to do that (short of bribing a Frommers editor) is to bop on over to Yahoo Local or Travel and write yourself the kind of review you know you deserve. Chances are good it will show up in Google Local sooner or later.
You may notice that Google presents two kinds of local search results: those that appear for searches conducted on its local search engine and those that appear in the local snippet at the top of many of the organic search results displayed by the regular Google search engine: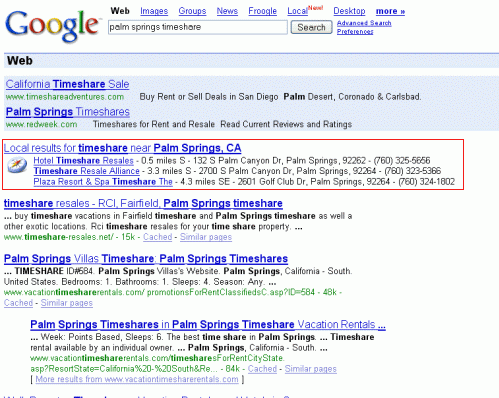 Both the ranking of the sites in the local snippet and the ranking of the sites in Google's local search results are largely based on location. For example, doing a search for pizza 96750 in the regular Google search engine produces the following results:
Paparoni's Pizza & Pasta
Keauhou Shopping Center: Rocky's Pizza and Family Dining
Cuz'NS Deli Pizza & Ice Cream
This matches exactly the top three results you get if you do a search for pizza 96750 in Google local. And those listings are ranked according to their distance from what Google has determined to be the geographical center for that zip code or city.
So an important part of ranking well in the local listings is to be located close to the geographical center of your zip code. That can make optimization tough (or easy, depending on your location).
Incidentally, proximity to the geographical center of a city or zip code is also part of the key to ranking well in the mobile version of Google local, and is important to ranking well in nearly every other local search engine (such as Yahoo, MSN, Ask Jeeves, etc...).
However, there are a few other factors to consider. If a site already ranks near the top of the organic search results, then it won't appear in the excerpt of the local listings that Google puts at the top of their organic search results page. This is to prevent Google from having a site listed twice on their search results page. For example, doing a search in Google for palm springs timeshare brings up the following local snippet in Google's organic search:
Hotel Timeshare Resales
Timeshare Resale Alliance
Plaza Resort & Spa Timeshare The
However, if you were to do the same search in Google Local, you'd find that Time Share Liquidators occupies the top spot. However, since Time Share Liquidators also occupies the top spot in Google's organic search results, giving it top billing in the local snippet would mean that Time Share Liquidators would be listed twice in the organic search – once in the regular search results and once again in the local snippet. So, Google filters it out of the local snippet to prevent redundancy.
You'll also notice that Google filters out of the local snippet any local search results that don't contain the searched-for keyword in their title. Thus, Tricom Realty Services Inc, Adriatic Villa, and Desert Isle of Palm Springs Resort don't appear in the snippet, even though they're ranking high in the local search results. This is one reason why it's always good to place your keywords in your page titles. And if you're targeting local search, then it's critically important that your location be among your keywords.
In addition to the Google Local Business Center, you can also submit your site to Google's Local Search by sending an email to local-listings@google.com. Give them the name of your business, a brief description, and your web site's URL. Unlike Yahoo, Google does not offer a paid Local Search inclusion program. You can get more information at the Google Local FAQ.
Yahoo offers a free basic listing at http://listings.local.yahoo.com/. If you do a search for your business name in Yahoo Local and you don't come up, then be sure to go to that page and add your listing. And, even if you do come up, you can still go to that page and edit, update, and otherwise improve your listing.
Yahoo doesn't prevent you from, ...uh, helping your cause by creating a Yahoo account under one of your favorite pen-names and then writing that glowing review you know you deserve under that assumed moniker.
Yahoo also offers enhanced listings for $9.95 a month. These include a company tagline, a business description, two links to offers on your web site, and up to ten photos. This seems like a reasonable price to pay for two authoritative and trusted links along with greatly expanded control over how your site is presented in Yahoo's local listings.
Having the ability to upload pictures is also something that shouldn't be overlooked – particularly for companies that specialize in visually orientated products and services. A construction company might wish to post pictures of their completed projects. A restaurant might find it effective to show photos of their most delectable entrees. The update feature is also nice for retailers who want to target special events like holiday sales and other limited-time offerings.
What's especially nice about the Yahoo local listings is that you can update them as often as you like, unlike the cheesy doorstop version which can only be updated once or twice a year.
Submit your site at Yahoo's Local Listing page. You can get listed for free – but, at $9.95 per month, Yahoo's Enhanced Listing is not a bad deal when you factor in the extra benefits.
AOL recently launched My Locations, which allows 55 million registered subscribers (as well as registered users of AOL's instant messaging products) to access and save locations and to communicate exactly where they are, down to their zip codes and billing addresses.
Even if you're not an AOL subscriber, you can still set your location with AOL through their search interface. In fact, you'll need to set your location before conducting an AOL local search. AOL will then use a cookie to associate your location with the searches you conduct. And, yes, you can have multiple saved locations.
Local content is pulled primarily from AOL Yellow Pages, with editorial reviews coming from AOL CityGuide. If your site is not found in AOL Local, the cheapest way to get listed is to add your business to the AOL Yellow Pages at http://yp.aol.com/. Near the bottom of the page you'll see a link titled Add/Update a Listing. After adding your listing, it can take 6 to 8 weeks for your site to show up in the AOL Yellow Pages – and often an additional 4 to 6 weeks for your site to show up in AOL local.
While getting a free listing in AOL Yellow Pages does not guarantee that your site will be listed in AOL Local, it does seem to help in most cases. However, you may not want to leave it up to chance.
In that case, you can also get very prominent placement in AOL Local by paying for a listing from AOL Self-Serve. AOL offers two kinds of paid listings – the more affordable enhanced listed, and the more expensive featured listing.
The price for a featured listing is based on your location and business, and can range from as little as $15 per month to more than $100. The featured listing includes the following benefits:
Premium placement in search results for your selected business category and geographic reach.

Bold business name.

Business logo or graphic.

Business tagline.

Four additional lines of promotional text.

Link to business Web site.

Choice of city or county geographic reach.

Single business category inclusion.
While AOL does a smaller search volume than most of the major search engines, it's still one of the most highly trafficked portals in the world, so it's fair to expect good things from this kind of exposure. Of course, you should monitor the amount of traffic and sales conversions you're getting to ensure the price you're paying is justified.
At the very least, you should test the enhanced listing. Track your results to see if having your site displayed prominently on both AOL Yellow Pages and AOL Local for only $9.95 a month is worth the fee.
Dariusz Paczuski, VP marketing at AOL search and directional media, says...
If you represent a local business, we recommend going into the Yellow Pages listing and update your product there. We also do have an ambassador program to work with resellers and businesses having franchises in multiple locations. You can send us your data and we will integrate and distribute that data for free across all of our local properties.
Time-sensitive information regarding events like sales at local retailers is provided by ShopLocal.com. You can contact them about getting your business's sale info listed at their retailers contact page
Ask Jeeves licenses its Local Search results from CitySearch, a local search Pay-for-Performance (PFP) service. Pay-for-Performance, in this case, means that you can choose to be charged based on the number of clicks or on the number of phone calls that your ad generates (or both). You can get your business listed with CitySearch by enrolling in their Pay-for-Performance program.
CitySearch has a fairly large distribution, providing Local Search results not just for Ask Jeeves and MSN, but also locally targeted advertising for Expedia.com, Match.com, TicketMaster.com, and a number of other high-profile sites.
Note: IAC/InterActiveCorp, the company that owns CitySearch.com, recently agreed to purchase Ask Jeeves. Read the full story in this month's updates.
Like Ask Jeeves, MSN also licenses much of its Local Search results from CitySearch. Thus, a CitySearch listing is your best path into MSN Local.
Amazon has been very aggressive about adding new businesses to their local listings, so chances are quite good that your business has already been listed. If so, click on your business listing, and you'll see a button on the right-hand side of the page that says Update Business Info. Clicking that link will allow you to modify and update your business's details.
While modifying your business's existing listing in A9 Local is a piece of cake, getting your business into A9 in the first place can be frustrating. A9 takes its local listings from data provider Acxiom, who in turn get much of their data from the print Yellow Pages. Thus, as we mentioned earlier, it's critical that you get your business listed in your local Yellow Pages if you expect to be found in the major local search engines.
Get on the bus...
Considering the speed at which search – especially local search – is evolving, you really are running out of time to get your business listed and your listing optimized if you haven't done so already. Not because you won't be able to in the future, but because you won't be able to do it cheaply!
Right now the learning curve costs are affordable. Sooner or later (and probably sooner than you'll like), the listing prices will increase. That means that the expenses involved in testing to see which local search services are worth the money for you is likely to become prohibitive for businesses that lack a big marketing budget and expertise in the field of web-metrics.
Every brick-n-mortar retail or service business will need to have an online local search presence – similar to the way a Phone Book listing has been essential in the past. We suspect that last call for cheap local online listings may be quickly approaching. You'll most certainly want to get on the bus before it leaves the station – and well before the masses toss out their cheesy doorstops in favor of the feature-rich instant gratification already being more efficiently delivered by local search.
Wanna buy a doorstop?



Esoos Bobnar
SEM Specialist and Technical Analyst
SearchEngineNews.com
---
Dynamic Lab: Dynamic SEO Manager
NEW SEO SOLUTION TO BOOST YOUR WEBSITE RANKING AND SALES LEVELS
We are happy to announce that that Apex Pacific has recently developed a new exciting solution for search engine submission and optimization - Dynamic SEO Manager.
Dynamic SEO Manager is a powerful web based application that provides you with a sophisticated system to automatically submit and optimize your website for all the major search engines and directories! The system can easily manage your website promotion based on your unique needs.
Dynamic SEO Manager utilizes all the powerful features of our desktop software Dynamic Submission but does not require you to install the application into your computer. You simply login to your SEO Manager account and start promoting your or your clients' websites!
If you are interested in learning more about Dynamic SEO Manager, please click here to visit the overview on our website or for specific questions, please contact our Customer Service.

---
Tips, Tricks: Dynamic Software Success Story
Imagine getting extra 30 000 hits to your website!
Does your email marketing campaign deliver high response rates and drive tons of qualified customers to your website?
Stratplanning.com's email campaign does.
Established just in 2003, Stratplanning.com has risen within this short period to global prominence in the field of communication strategy. When executing their email campaign with Dynamic Mail Communicator, the company's website gets extra 30 000 hits!
Initial Objective
Stratplanning.com initially used Dynamic Mail Communicator to promote their services to a purchased mailing list, but having a regular source of unique content, the company adapted their communication into a regular ezine, The Strategist.
Dynamic Mail Communicator helps to create targeted e-mail campaigns and promotions
"Dynamic Mail Communicator enables us to send regular, personalised emails to our target audience. Being able to insert unique data beyond name and address has also allowed us to break through the clutter (such as using a recipients name in an ad)", says Sid Peimer, CEO of Stratplanning.com. "When an ezine goes out, we can get 30 000 hits the next day on our site (with a mailing list of only 4 000)."
Do you also want to send targeted, personalized and professionally looking emails that deliver high response rates and increase your online sales?
If yes, then chose Dynamic Mail Communicator - the e-mail marketing tool that will help you to stay in touch with your customers and keep them coming back to you.
"Dynamic Mail has made an enormous difference to my business and I highly recommend it."