Increase of 10 to 200 visitors per day in 3 months

CorpRat Pty Ltd is one of the fastest growing business publishing and training organisations. The company publishes products, programs and training courses targeted to both business and coaching/consultancy sectors. The main areas of specialisation include business development, lead generation, marketing, performance coaching, balanced scorecard and profit improvement tools. Prior to providing search engine optimization for CorpRat, its web site received about 10 visitors per day and their main online marketing strategy was advertising through the Pay-Per-Click bidding on Google and Yahoo. They spent over $2,000 per month on PPC and the sales conversion was very poor.
How to improve website ranking and conversion on search engines?
Having been impressed by Apex Pacificís technology and detailed Search Engine Compatibility analysis of the site, Peter Hickey (the Managing Director of CorpRat) asked us to provide a search engine marketing solution to ensure their site would rank well for regional business coaching-related searches in their target market in Australia.
Our first step was to conduct keyword research into the topic of business coaching to produce a range of targeted keywords and phrases that would attract the most relevant traffic to the site. This was followed by an overhaul of existing Title and META Tags on each page, followed by extensive page copywriting to integrate new targeted keywords naturally into the site, and link building strategy to increase their Google Page Rank.
Solution
Westerware has chosen PPC Bid Maximizer, automated Pay-Per-Click (PPC) bid management tool in order to manage their online campaigns in the most cost-effective way.
"Both Google and Yahoo automatically adjust your bid down to just one cent above your nearest competitor. However, some of the major search engines like Enhance may leave a bid at $0.15 or higher, even when there is no other bidder. With Bid Maximizer, we never bid more than absolutely necessary, which saves a lot of money over a month. Also, Bid Maximizer allows us to target other positions than just to be the top bidder. Going for number 2 or 3 can be very profitable, and still give you a lot of clicks", says Magnus Wester, the Managing Director of Westerware.
Results
PPC Bid Maximizer helped the company to save its advertising money and hours of time they would have wasted without using the software.
"With Bid Maximizer, the average cost-per-click in Yahoo was reduced from 0.22 to 0.14 (30%). Over the same period, the gross margin (sales commissions minus advertising costs) for Yahoo improved from 53% to 67%," says Magnus.
"Since Bid Maximizer is a Windows tool, it's very fast and easy to use. You can find a specific keyword and change its bidding rules in one tenth of the time compared to doing the same thing directly on the search engine's web site. Just for the ordinary maintenance of keywords and bids I believe we save at least twenty hours a month," says Magnus. "If you look at all the 24 by 7 constant monitoring and automatic bid adjustment provided by Bid Maximizer, well, we'd never be able to afford to do that manually. It's so amazing that you just set the rules for it and it goes to work, relentlessly and persistently."
Making the right choice
"Some of the competitors are web-based, which must be a real drawback in terms of speed-of-use. Furthermore, Bid Maximizer support is formidable and we feel we have even been able to influence development of the product by describing our business needs to the developers," says Magnus.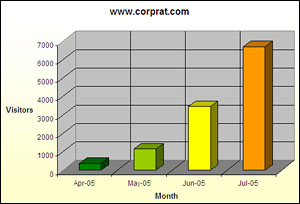 Search Engine Optimization increases the website traffic by 2000%
After 3 months of the implementation of CorpRatís search engine optimization campaign, Apex Pacific has achieved several top ten positions for the site across the world's most important search engines and directories. Below are just a few examples*:
Now, CorpRatís web site attracts 200 quality visitors per day (increase by 2000%) and they have reduced their PPC spending to $500.00 per month.
"With the continuing search engine optimization support from Apex, we will achieve more top rankings for our targeted keywords, we will likely stop our PPC campaign within 2 or 3 months when more visitors are coming to our web site from the free search ranking results", says Peter Hickey.
Can Apex Pacificís offer support and expertise on running a Successful SEO Campaign?
Of course! Our experienced consulting team will be happy to develop an effective strategy, to help give your business a competitive advantage over your competition. Please contact us now.
I would like to receive a FREE ranking report to show me how my web site ranks
I would like to receive a FREE quote to help me how to achieve a high ranking
More information
How much do you spend on PPC campaigns? Learn how to turn a non-productive website into a powerful revenue generating website with PPC Submission.
More information