Knowledge Base
Tutorial - Web Ranking™
Step-By-Step Instructions
Open Engine Builder by clicking the "File/Engine Builder" menu item. If this is the first time you open Engine Builder, you are requested to enter your unlock key.
On the "Engine Builder" screen, click the "New" button, and enter the name of the search engines you want to build. For example: Alta Vista.
Then open your web browser, and go to the search engine web site(In this case: http://www.altavista.com), type a keyword in the "search" box and click the "Search"(or "Find" button), see below:
The search engine will return the results page as below: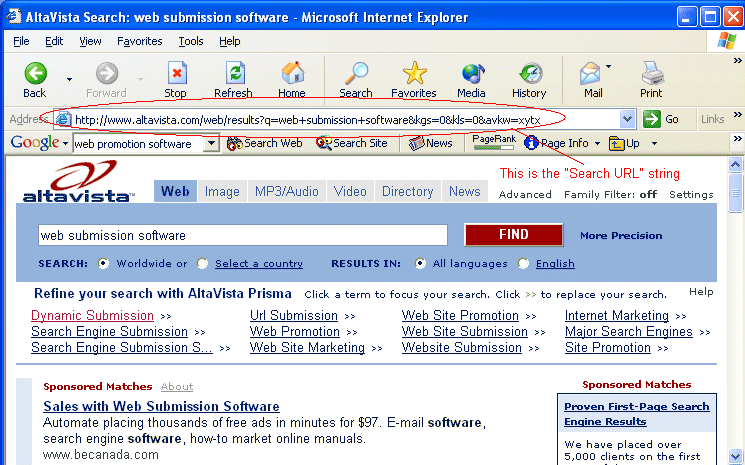 Copy the "Search URL" string in the "Address" box of the browser, and switch to the "Engine Builder" screen of the "Web Ranking", then paste it to the "Search URL" box as below, then press the ">>" button
The program will automatically parse the "Engine URL", "Engine Key" and "Query String" to the appropriate box as shown above.
Please change the actual keyword or keyword phrases(for example "web submission software") to "<keyword>" in the "Query String" box.
Enter the "Next Page1" string as described in the "Engine Builder Interface" section, which will be ">[next" in this sample.
Click the "Results Data" tab.
Find the "Results Start String" and "Results End String", and enter to the "Full Results" section of the "Engine Builder". Note: sometimes, you need to find these strings from the HTML source code using the similar concept as below.
Go to the HTML source code of the search results with your Notepad(or any HTML editor). As a sample, we use WordPad to display the HTML source code as below:
Find the listing section.
Find and enter the "Section Start String" and "Section End String".
Find and enter the "Title Start String" and "Title End String".
Find and enter the "URL Start String" and "URL End String".
Finally, find and enter the "Matches Start String" and "Matches End String".
Then click the "Save" button to save your engine data file.
Close the "Engine Builder", your new engine data will be loaded into the web ranking program automatically.
Select the Search Engine from your "Account Project" window and test it. Sometimes, you need to adjust the "Results data string" several times in order to get the correct results.
At any time, if you have any questions or need any assistance, please feel free to contact us at