Yahoo! Panama Now Launching for UK Market.
Apex Pacific is excited to announce the news that Yahoo! Search Marketing has now launched their new Panama system, which is the new face of Yahoo! Pay-Per-Click advertising, for the UK market.
The Panama system replaces the Overture Pay-Per-Click engine and now provides a whole range of PPC incentives to Yahoo advertisers. This new system has changed the way advertisers can promote the business through the Yahoo! Sponsored Listings.
In the coming weeks you will receive notification from Yahoo! Search Marketing as to how and when your account will be upgraded so keep a look out in your inbox for any notifications.
Find out more about the Upgrade process through the Yahoo Upgrade Centre
PPC BidMax 4.0 has the capabilities to help manage your Yahoo Sponsored Search account more successfully.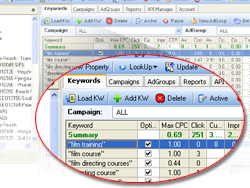 It's simple interface and features will let you setup, monitor and manage your accounts with a few clicks of a button.
Once your Overture account has been upgraded to the new Yahoo! Sponsored Search system, you will be able upload all your campaigns within the one program and monitor the conversions and statistics through the handy ROI Performance Reporting.
Take a look at what the PPC BidMax 4.0 can offer you by
clicking here.


To find out more about how PPC BidMax v4.0 supports Yahoo Sponsored Search Marketing, visit www.apexpacific.com/bidmax.html.

Existing BidMaximizer 3.0 Users:
Apex clients who are using the Overture system to manage their Yahoo! Pay Per Click campaigns on a subscription basis are entitled to a FREE upgrade to the new PPC BidMax 4.0 once your Yahoo! account has been migrated to the new Panama Platform.
To upgrade your account with Apex and start using PPC BidMax 4.0 to manage your Yahoo! and Google PPC advertising, please contact service@apexpacific.com once your Yahoo! account has been moved to the new Panama Platform.

MSN adCentre - Limited Offer
Apex Pacific would like to offer current users of PPC BidMax 4.0 the rare chance to test out the Beta Version of MSN adCentre before the official launch!
The addition of this feature to the program will allow you to manage your PPC Campaigns in the three major search engines easily and efficiently through just one interface. The addition of MSN adCentre to the PPC BidMax 4.0 program means that users will now be able to save more time and more money managing their PPC campaigns.
Agency users are now able to offer their clients a value added service and stream line their operations through the use of this brilliant program!
To take part in this limited offer please contact service@apexpacific.com for more information.

Testimonials:
Here is just some of the feedback that we have received from our customers about PPC BidMax 4.0:
"We spend almost $100,000 per month on Pay Per Click (PPC) engines. Managing Yahoo plus 7 other PPC engines with the 100+ keywords was a very time consuming and tedious task until we purchased PPC BidMax. This product performs unbelievably well saving me numerous hours per week. More time is always good but the fact that I am also spending less money on advertising and generating higher sales on the money I spend, is a major bonus."

Mark
Internet Marketing Manager
"This program has too many features to list, but here's a few of the bid management main points that absolutely made my day. This tool saves you a TON of money by always managing your bids at their optimal positions. This can add up to substantial savings, but more importantly to me; this saves a LOT of TIME!"

MarketingHwy.com
http://www.marketinghwy.com/bid-management.htm
"Even with very few keywords, PPC BidMax adds important value by constantly monitoring what your competitors do to their bids. Using the simple rules you have set for it, PPC BidMax then adjusts your own bids so that you always get exactly what you pay for. I believe we save almost $1,000 a month with PPC BidMax."
Magnus Wester
Managing Director
http://www.westerware.se
PPC BidMax 4.0 is the improved all-in-one update of the extremely popular Bid Maximizer and has set new standards in Pay-Per-Click management technology.

Starting from just US$30 per month you can't afford not to purchase this product!

Please download your 30 day Free Trial today from our website:



Start saving money from your advertising spending and enjoy the ease of managing your Paid Search Advertising campaigns at the click of a button.