Opt in Email Marketing
Sending newsletters email is one of most common and effective way to promote your business over the internet. However building up list of your potential audience and customers is not an easy task. The easiest way around this is to let them subscribe for themselves. Your mailing list will be highly targeted which is very good but how do you manage this mailing list with all new subscribers and unsubscribers, without a proper tool to do this automatically managing a mailing list will be a very painful task.
What is opt in mailing list and opt in email marketing?
With opt in mailing list visitors or your customer can subscribe to your mailing list automatically and the opt in email software will add that person automatically to the opt in mailing list, making it easier for you to build up and maintain your opt in mailing list.
What is double opt in mailing list and double opt in email marketing?
Double opt in is for your protection against unsolicited email. After visitors register at your site they will receive a confirmation email. By replying to the confirmation email, your visitors have "double opt in" which means that
They are the owners of their email addresses
The address is working
They indeed want to subscribe to the opt in mailing list
Most often, the confirmation action is as simple as replying to the confirmation request or clicking on a link. Eventhough taking more time and process double opt in is more secure and better than the regular opt in email marketing
Mail Communicator™ allows you to automate your opt in mailing list and opt in email marketing processes thus saving you time. It helps you keeping your opt in mailing lists current by auto-creating a mailing list or remove list from your Incoming mail. Customers and visitors will be able to opt in to your mailing list without you having to do it manually.
This opt in email software is just what you need to perform your opt in email marketing and process your opt in mailing list automatically.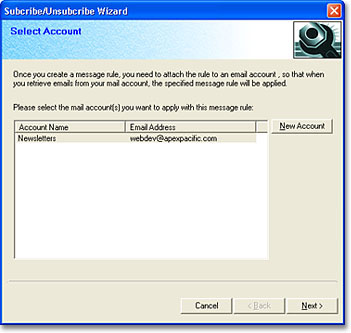 Mail Communicator™ a powerful opt in email software
Choose your account for the opt in email marketing message rule to be applied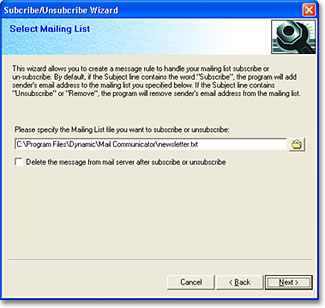 Mail Communicator™ a powerful opt in email software
Select which mailing list will become an opt in mailing list