Web Ranking ™
A must have Search Engine Ranking and Web Site Position tool for every web promoter
Web Ranking ™ is the most POWERFUL web site analysis tool. It will help you check your web site position on ALL major search engines such as Google, AltaVista, Yahoo, Lycos, Excite, WebCrawler, MSN etc. Apex Web Ranking Software works is a power web ranking tool works hand in hand with Web Submission (a web site submission and search engine optimization software ) to check your web site ranking to help to get your web site listed into the top position of the search engines. Apex Web Ranking software saves you hours of work of constantly monitoring your web site's search engine positions while alerting you to problems. With Web Ranking you will have the reports you need to make improvements, correct problems, check your competitors web site positions and thereby increase your web site's traffic without spending a penny in advertising!
Web Ranking ™ is an essential tool for the serious web promoter, providing a means to judge the success of your Search Engine and Web Position. Web Ranking will fully automate the process of doing this tedious task and then provide you with practical guidance and tips to improve your pages so they will rank better with the search engines.
Web Ranking ™ also allows you to add your own engine using an Engine Builder Plugin, which unleash the potential of having unlimited number of engines.**
Launch Web Ranking Product Tour
A 30-second overview of the benefits of Web Ranking a must have Search Engine Ranking Tool, Web Ranking and Web Position Monitoring Tool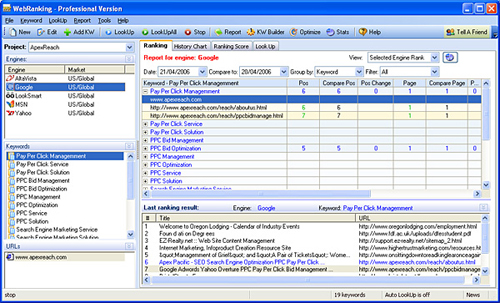 Stay on TOP of your competitor
As 85% of the total internet traffic is generated by search engines, 3rd party research has proven that search engine positioning is the most effective way to drive traffic to your web site. However, with millions of web sites indexed by the search engines, if your web site is not listed into the top 30(or 50) position of the search engine search results, it is almost impossible for people to find your web site on the search engines. To know where your web site ranks on the search engines and how good is your web site position compare with your competitors is your first step to optimize your web page to achieve higher ranking.
Checks web position for 100 keywords on 20 search engines in 5 minutes
Checking your web site position is very time consuming. If you tried to do this manually. For example, let's say, you have 100 keywords want to monitor, you want to check its top 30 positions for 20 major search engines. If you do it manually, you need to perform about 6000(100 keywords * 20 engines * first 3 pages) individual searches to get the results and compare it with your URLs one by one. It may take you weeks to complete this task if you do this manually until now! With the all new Web Ranking, you can complete this task within 5 minutes with just one button click and 3 comprehensive ranking reports will be generated for you automatically. Web Ranking will literally save you untold hours of manual searching and creating the Web Ranking report, not to mention the amount of money you would spend on the Internet connection time.
Supports unlimited keywords for multiple URLs
This powerful Web Ranking tool allows you to check your web position for unlimited keywords for multiple URLs on ALL major search engines with one button click. Please look at the screenshot below; all your keywords, URLs, search engines, positions and search results are shown in a friendly easy to use interface. All you need to do is to click the "Load Keywords" button to load your keywords from your web site (automatically), and then click the "Look Up" button, the program will perform the keyword ranking position look up for you automatically, and generate the ranking reports for you when it completed.
Comprehensive Search Engine Ranking Reports
If you are running a business, you will know that a good business report will make difference to your business. When we redesigned the new Web Ranking, we have kept this in mind to bring to you the best Web Site Ranking and Position reports that every webmaster needs but can not be found from any other place.

Below is a sample of our comprehensive Web Ranking reports. Our unique "Search Keyword Summary Report" displays your positions for all keywords on all search engines in a matrix format. This is the ONLY such type of ranking report on the market today and there is NO OTHER ranking program can compare with.
Send Search Engine Ranking Report by Email
Automatically
Do you want to send your web site ranking and position report to your boss or your client? If you are a web hosting company or running a search engine positioning service for other people, automated this task will be very important to you. No problem, with Web Ranking, it allows you to send search engine ranking and web site position reports to any email address automatically when it complete, or you can also re-send it again to other email address at any time with one button click.
Schedule your Search Engine Ranking process at any time interval automatically
Thousands of new web sites will be added to the search engines every day, and search engines will update their database frequently, your web site position will be changed from time to time. It is very important that to check your web site position constantly to aware the problem quickly if your position is dropped. With Web Ranking, you can specify the time you want to run the web ranking and position report every week, fortnight or any time interval, the program will perform the ranking search for you automatically, so that you can always stay on top of your competitions.
FREE BONUS offer for every purchase before :
Free

Apex Internet Marketing Training Toolkit for SEO and PPC (value

$599.99)

Free

Step-by-Step Guide for SEO, PPC and Email Marketing (value

$599.99

)

Free

Dynamic SiteStats web traffic analysis system (value at

$199.99

per month)
Web Ranking
Evaluation Version
Web Ranking
Standard Edition
Web Ranking
Professional Edition

Price

FREE
US$99.95
US$199.95

Suitable for

Evaluation purpose only. 30 days trial period

Individual users or Small and Home business.

Medium sized company to Large Enterprise.

No. of URLs

1
10
Unlimited

1 Year FREE Engine Data Renewal Subscription

-

FREE on going support

-

30 Days money back guarantee

-

30 Days money back guarantee

-